Hot Restrike Metal Halide Lamps
KHD series Hot Restrike Metal Halide lamps are high intensity discharge lamps that produce high quality and high lumen output using Stable-Arc technology.
KHD Hot Restrike lamps are ideal sources for use in Studio Lighting. Available from 400 watts up to 18,000 watts. All bulbs are made in Japan.
The chief applications for metal halide lamps is film, studio, and television. Consistent performance, such as a color temperature close to natural sunlight and higher color rendering, are required. The KHD metal halide lamp is designed and manufactured to meet this specialized and precise requirement.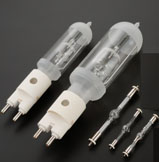 400W-1800W Hot Restrike Metal Halide
Part Number
Lamp Wattage (W)
Cap / Base
Lumen Output (lm)
Efficacy Source (lm/W)
Chromaticity Coordinate
Color Temp (K)
Average Life (h)
Min. Ignition Supply Voltage (V)
CRI
Lamp Current (A)
x
y
KHD-400HR
400
GZZ9.5
33000
83
—
—
6000
750
—
90
6.9
KHD-575HR
575
G22
49000
85
—
—
6000
1000
—
90
7
KHD-800HR
800
G22
65000
81
—
—
6000
1000
—
95
8.4
KHD-1200HR
1200
G38
110000
92
—
—
6000
1000
—
95
13.8
KHD-1600HR
1600
G22
150000
94
—
—
6000
750
—
95
10.7
KHD-1800HR
1800
G38
165000
92
—
—
6000
750
—
95
14.6
2500W-18000W Hot Restrike Metal Halide
Part Number
Lamp Wattage (W)
Cap / Base
Lumen Output (lm)
Efficacy Source (lm/W)
Chromaticity Coordinate
Color Temp (K)
Average Life (h)
Min. Ignition Supply Voltage (V)
CRI
Lamp Current (A)
x
y
KHD-2500HR
2500
G38
240000
96
0.323
0.328
6000
500
45000
≥96
25.6
KHD-4000HR
4000
G38
380000
95
0.323
0.328
6000
500
45000
≥95
24
KHD-6000HR
6000
GY38
570000
95
0.323
0.328
6000
300
50000
≥95
55
KHD-9000HR
9000
GX38
875000
97
0.323
0.328
6000
400
50000
>90
56
KHD-12000HR
12000
GY38
1200000
100
0.323
0.328
6000
300
65000
≥95
84
KHD-12000HR/H
12000
GY38
1200000
100
0.323
0.328
7000
300
65000
≥95
84
KHD-18000HR
18000
GY51
1650000
92
0.323
0.323
6000
300
65000
≥95
88
KHD-18000HR/DE
18000
S30
1650000
92
0.323
0.325
6000
300
65000
≥90
88